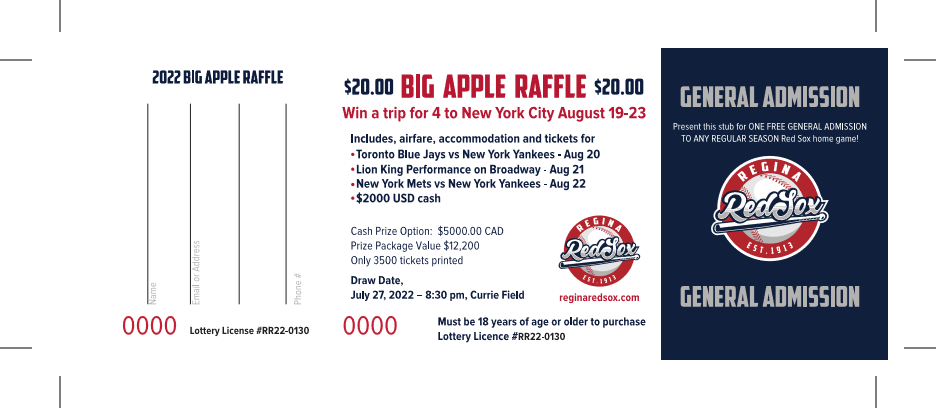 To Purchase a Ticket please email sclarke@reginaredsox.ca or call 306-721- 0666 and we will process your credit card over the phone and mail out your ticket or send a picture of your ticket via email!
Big Apple Raffle
2022 Rules of Play
July 27, 2022
Persons must be 18 years of age or older to purchase the Big Apple Raffle Tickets.
One of the four people taking the trip must be 21 years of age or older.
Board members of the Regina Red Sox or persons involved in the conduct and management of the raffle will not be allowed to purchase tickets.
3500 tickets are available at $20.00 each
The combined value of the trip is $12,201.13 CAD (based on the US Dollar on May 1, 2022) or $5000 cash if cash prize is chosen.
West Jet                             4 flights                                                                      3501.76
Hotel                                   2 rms 4 nights                  2561.66                          3281.32
The Lion King                     4 ticket                               696.70                             912.51
New York Yankees           4 tickets                              763.38                           1003.98
NY Yankee game 2           4 tickets                              714.50                   939.69
$2000.00 USD Cash                                                            2000.00                       2561.87
 Total Prize Value                                                                                               12201.13 CAD
Winners must choose the trip with the following conditions by August 3, 2022 or take the $5000.00 (CDN) cash prize. If the prize winner has not been identified and the trip not claimed by August 3, 2022, the prize to be awarded will be $5000.00 cash and must be claimed by July 26, 2023. If at that time the cash prize is still unclaimed, the prize will be donated to a charitable beneficiary as approved by SLGA. The trip must be taken as outlined in the itinerary. Each person travelling must present a valid passport by August 6, 2022, or the cash prize will be awarded.
All tickets sold will be entered into a draw drum. The draw will take place on the infield at Currie Field, Regina midway through the Red Sox game on July 27, 2022. (8:30 pm)
Tickets must only be purchased or sold with Saskatchewan.
Regina Red Sox Baseball Inc. or its executive will not be responsible for insurance or liability. Persons travelling do so at their own risk and are advised to purchase insurance, as necessary.
Contact info – Regina Red Sox Baseball Inc.                  www.reginaredsox.com                            306-721-0666
Sharon Clarke                                     sclarke@reignaredsox.ca