July 31, 2022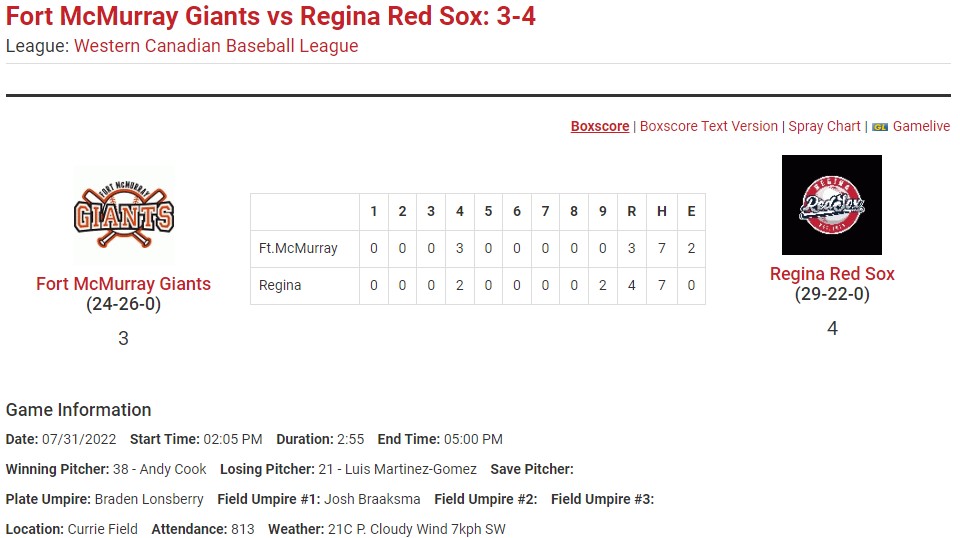 A crowd of over 800 showed up Sunday afternoon to watch the Sox take on the Fort MacMurray Giants and they were treated to a beauty of a game. A no time did the Queen City kids lead the game until 2 outs in the bottom of the 9th inning. The Sox were trailing the Giants 3-2 heading into their last bat. Dylan Edmonds started the inning with a lead off single and Mike Kenney got on with a 1 out walk. Nate Bach hit a grounder to 1B which allowed Regina's runners to advance to 2nd and 3rd with 2 out. Catcher turned first baseman Diego Aragon jumped on the first he saw and hit a double to right center to drive in 2 runs and win the game for Regina.

Regina starting pitcher Hunter Smith pitched 7 2/3 of 7 hit baseball and kept Regina in the tight ball game. He truck out 5 batters. Andy Cook pitched 1 1/3 innings of shut out baseball and was the pitcher of record.

Diego Aragon was obviously the offensive star of the game with his walk off double. He was 1 for 5 but delivered the big hit the Sox needed. Regina product Dylan Edmonds was 2 for 3 with 1 RBI and a walk. Hits were at a premium with Regina only getting 7 hits.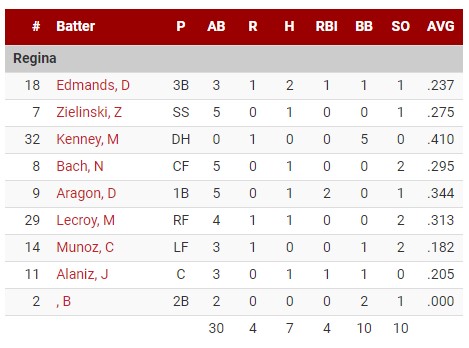 Regina takes on the Weyburn Beavers Monday and Tuesday at Currie Field . Both game times are 7:00 PM
Tickets: https://tickets.reginaredsox.com
Back To News